Graduation June 17, 2018 at 10:00AM CST
Days
Hours
Minutes
Seconds
Guest Speaker: Curtis Duffy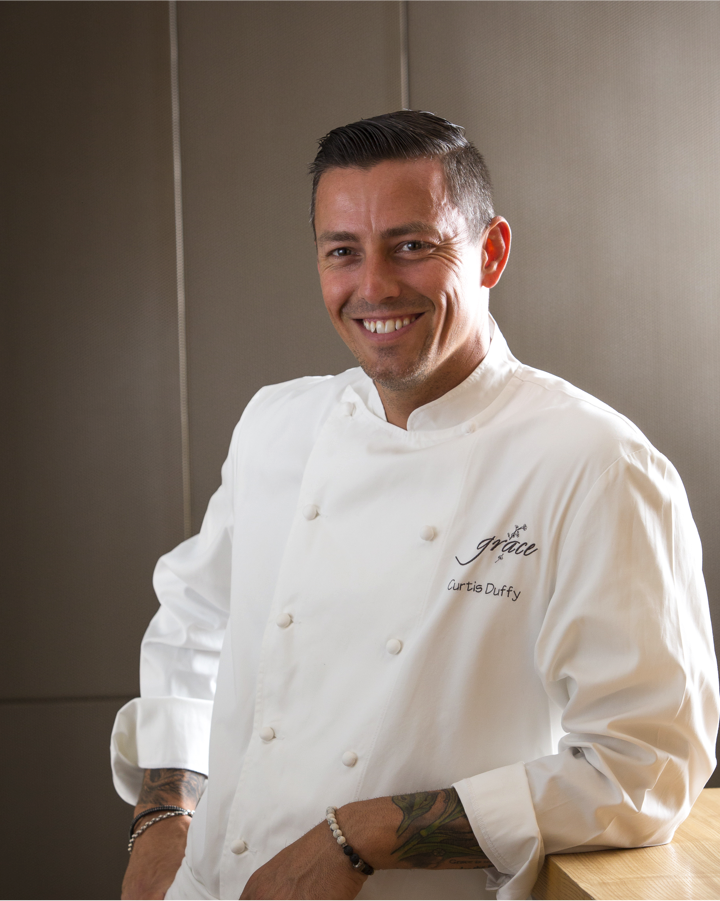 Grace, a Michelin awarded restaurant is owned by Chef Curtis Duffy whose culinary mastery has maintained Michelin's highest three-star rating for the past three consecutive years (2015-2017). Duffy's style is a reflection of his personal taste and drawing upon his wealth of experience. His micro-seasonal cuisine is best described as "thoughtfully progressive" – thoughtful as he puts tremendous time, focus, research and thought into what he creates, and progressive as he utilizes modern techniques to coax the best out of the ingredients. Each dish is an expression of his personality – progressive but grounded – and puts ingredients at the forefront. He continues to source the highest-quality ingredients, allowing flavor to trump technique.

Duffy has earned numerous accolades, including Forbes Travel Guide Five-Star, AAA Five-Diamond, and 2016 James Beard Foundation's "Best Chef, Great Lakes" Award. While Duffy continues his culinary evolution, he sits on the advisory board of Auguste Escoffier School of Culinary Arts with a $25,000 scholarship in his name. He continues his charitable efforts by volunteering with Grand Chefs Gala, a fundraiser benefiting the Greater Illinois Cystic Fibrosis Foundation where he is Chef Chair of the gala, and hosted several dinners at Grace to further the foundation.

Duffy's culinary and philanthropy ethos inducted him into the prestigious Disciples d'Escoffier International, where he will continue to encompass those shared ethos as a Disciple. He currently resides on the north side of Chicago with his two young daughters.
A Word From Our Graduates
Graduates of the Online Culinary Arts Certificate course reflect on their time in the program, the ways it has improved their career aspects and what their graduation day means to them.
Instructor Bios
Executive Chef Graham Mitchell, CEC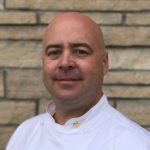 Chef Graham Mitchell was raised in a small farm town in Mississippi by his grandparents who taught him how to love cooking at an early age. After attending the University of Mississippi, Graham followed his heart to Johnson and Wales University in Charleston, SC, graduating with a degree in Culinary Arts/Summa Cum Laude in 1996. While in culinary school, Chef Graham worked in the test kitchen of Master Chef and James Beard Award Winner, Chef Louis Osteen, author of Louis' Charleston Cuisine.
Moved to Scottsdale, Arizona, where he served as Chef de Partie at the Fairmont Scottsdale Princess. He spent time in both AAA 5 Diamond and Mobil 4 Star Marquesa featuring Catalan cuisine as well as AAA 4 Diamond and Mobil 4 Star La Hacienda featuring foods of Oaxaca. In 2000, Chef Graham ascended to the Sous Chef position at Medizona in Scottsdale, which was named one of the top 22 new restaurants in the country by John Mariani in Esquire magazine.
Worked for Food and Wine Top Chef James McDevitt at Restaurant Hapa, ultimately working his way up to Executive Chef. As Executive Chef, Chef Graham opened McDevitt's venture, Soma, in Scottsdale and then accompanied McDevit to open Restaurant Budo in Napa, California, as Executive Sous Chef.
Began his career in education at The Texas Culinary Academy in 2005, where he taught culinary technique classes and managed the student-run capstone course Bleu River Grille and Ventana Restaurant. In 2011, Graham made the decision to return to his calling as a Chef at the Blue Star Cafeteria in Austin, TX. During his tenure there, he oversaw all operations of the restaurant; both front and back of the House.
Since 2012, Chef Graham has been an integral part of the operations of the Boulder Campus of Auguste Escoffier School of Culinary Arts as Executive Chef and Lead Academic Officer.
Lead Instructor Chef Chanel Hayes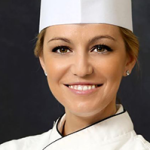 Chef Chanel grew up in a mixed Mexican-Romanian household and inherited a love of cooking from her mother and grandmother, who made dinner from scratch every night. After graduating from high school, she was torn between becoming a teacher or entering the culinary world. She decided on culinary, and graduated from Le Cordon Bleu in 2004 with an Associate's Degree in Occupational Studies. Working at various hotels and restaurants, she combined the training she had gained from her studies with the philosophy of home-style comfort food she had learned growing up. Her focus was in culinary, but her sweet tooth constantly pulled her towards baking, and she found ways to incorporate both into her work.
A year later, Chef Chanel started a catering company, White Apron Catering, where she worked closely with doctors to develop specialized menu options with patients who had compromised diets. Her passion for teaching never faded, however, and in 2006 she joined the staff of the Kitchen Academy in Hollywood as a Chef Instructor. From there, she continued teaching with Le Cordon Bleu, as Lead Chef Instructor of the Baking and Pastry program, for which she received the L'Esprit de Excellence Award in 2009 and Educator of the Year nominations in 2013 and 2014. She became a certified pastry chef (CWPC) through the American Culinary Federation in 2013. In 2016, she left her position at Le Cordon Bleu to get involved in online education, joining the staff of the Escoffier School of Culinary Arts.
Chef Chanel believes in fostering active discussion and participation among students. Each student has their own path through the culinary world, and the classroom is the crossroads where each path meets the others, making culinary school the ideal time for students to learn from each other's experiences. Everyone has something to contribute.
Chef Chanel lives in Burbank, California, with her husband Jim and her son Fenway.
Lead Instructor Chef Anne Lanute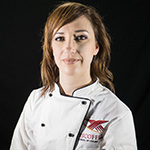 Chef Anne began working in the restaurant industry 20 years ago while finishing Bachelors of Arts degrees in Psychology and Writing. She went on to earn her Master's in Arts and Letters before enrolling in a Patisserie and Baking program.
While in pastry school, Chef Anne sought out Atlanta's top pastry chefs and volunteered at their restaurants. She learned from Chef Christian Balbierer at Chocolate Pink, Chef Jonathan Saint-Hilaire at Trois, and Mihoko Obunai at the highly-rated Japanese-French fusion bakery, Joli Kobe.
Her efforts caught the attention of Kevin Rathbun, who brought her aboard as part of Pastry Chef Kirk Park's team. She designed breads and desserts for the highly-acclaimed Rathbun's, Krog Bar, and Kevin Rathbun Steak. A few years later, she returned to Trois, this time as Pastry Sous Chef. She later moved to Virginia to take a position as Chocolatier, working alongside Tim Gearhart at Gearharts Fine Chocolates in Charlottesville.
Chef Anne eventually returned home to the Chicago area, where she worked as a Pastry Chef at Bistro One West and DeEtta's Bakery, and as a Pastry Consultant. Today, she is the Pastry Arts Instructor at Escoffier Online International Culinary Academy, where she shares her knowledge and love of the craft with baking and pastry students.
20 years' experience
M.A. in Arts and Letters
Worked under Kevin Rathburn
Sous-Chef at Trois
Chef Luke Shaffer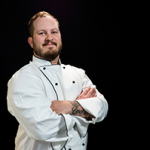 Chef Luke Shaffer is proud to be joining Escoffier Online International Culinary Academy as a Chef Instructor. Born and raised in Texas, Chef Luke grew up learning southern-style cooking from his grandmother. On his twenty-second birthday, his friends bought him a grill, and he started hosting weekly dinners out of his apartment in college. From there, he decided to take his love of cooking and make it a career.
Chef Luke has worked at everything from cafes to high-end sushi restaurants, including renowned Austin sushi restaurant Uchi, as everything from a dishwasher to an executive chef. As a chef, he discovered his passion for teaching and inspiring others, which led him into the world of culinary education. Despite his far-flung culinary pursuits, his love for Southern home cooking remains as strong as ever, and he cooks out of his custom-made barbecue trailer whenever he goes tailgating.
As a Chef Instructor, Luke believes that education should be a journey of discovery for both teacher and student—a conversation between peers in which participants learn as much as they can from each other. He sees online culinary education as a way to bring together diverse learners from all across the globe, each bringing their own unique perspective to the table.
Chef Janet Rörschåch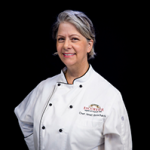 Since she was young, Chef Janet Rorschach wanted to travel the world and experience the cuisines of different cultures. She studied theater at Mount Holyoke College, but decided after graduating to move to Europe and enter the restaurant industry. She sees cooking as an art that anyone can appreciate, and that allows people from anywhere in the world to connect with each other.
From 1987 to 2006, Chef Janet worked at a variety of restaurants across the United States and Europe, most notably Clarke's Restaurant in London, where she developed an appreciation for farm-to-table cooking. However, she wanted to give more back to the community than a restaurant chef can offer, so in 2006 she started teaching culinary classes.
Chef Janet believes that culinary education is about carrying on a legacy. The chef's profession carries with it a tradition of innovation and creativity spanning hundreds of years, from François Pierre de la Varenne and Auguste Escoffier, to chefs like Eugénie Brazier and Edna Lewis, to today's students, who will become the chefs of tomorrow.
Chef Tom Beckman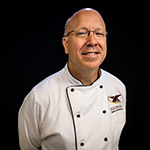 Chef Tom Beckman learned cooking from his mother, but got his degree in radio/TV communication and worked in the airline industry for 9 years before deciding to go to culinary school.
He attended the Cooking and Hospitality Institute of Chicago, which would later become Le Cordon Bleu College of Culinary Arts. It was there that he found his passion for baking. He specializes in doughs, especially laminated doughs, used to make things like croissants and Danishes.
After graduation, he worked at several hotels in Chicago, most notably the Ritz-Carlton and the Mayfair Regent. He was the executive pastry chef at Tra Via, an Italian restaurant, under David Wennerlyn, and worked as a private chef in the Lincoln Park neighborhood of Chicago.
Eventually, though, he discovered that teaching was his true calling. He returned to Le Cordon Bleu and taught baking and pastry there for 18 years, mentoring students of all backgrounds and levels of cooking knowledge, before joining the Escoffier Online staff as a pastry instructor.
Chef Jesper Jonsson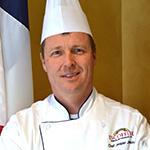 A native of Denmark, Jonsson trained in France at both Universite Paul Valery and Auguste Escoffier. With a solid background in French cuisine, he moved on to cook in Europe, New York for Danish diplomats and eventually Colorado.
His guest lists have included such luminaries as Princesses Stephanie and Caroline of Monaco, Caroline Kennedy, Yoko Ono, Isabella Rossellini, Clint Eastwood, Roger Moore and Greg Norman, to name a few.
He speaks English, Danish and French. In a pinch, he can handle Italian as well.
With all his exposure, Jonsson is a down-to earth chef who takes pride in culinary simplicity, knowledge and perfect execution of his food. He has a love for Colorado game and meats and insists that Colorado lamb as absolutely equal to the best pres de sel from Brittany, France.
He comes by his love for Colorado from having lived and worked on the Western Slope in and around Meeker.
Chef Tyson Holzheimer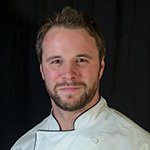 A native of Montana, he developed an understanding and love of food while learning to hunt, fish, and cook with his family.
He spent the first few years of college in Alaska, where he experienced working in professional kitchens and bakeries.
Continuing his culinary career in fine dining at a resort near Big Sky, he was soon offered his first head chef position at a Spanish-influenced restaurant in Bozeman.
Brought to Denver, CO, where he worked with a growing breakfast chain to open 8 restaurants, develop menus, standardize sanitation programs, and train kitchen employees.
Worked as a corporate chef; Partner in a small butcher shop and restaurant, working with local animals, making his own charcuterie and sausage, and training staff to manage all aspects of the restaurant.
His true calling was teaching aspiring chefs and managers about the restaurant industry, which led him to Escoffier as a Culinary Instructor.
Chef Sofia Kosturakis Forde
Sofia Kosturakis Forde was born in El Paso, Texas, and lived in Chihuahua, Mexico. Sharing quality family time over a delicious meal was a common occurrence in the Kosturakis home. The international cuisine they enjoyed was influenced by her Spanish mother and Greek/Mexican father.
Following her father's footsteps, Chef Forde attended medical school at the University of Texas at El Paso where she soon realized cooking made her truly happy. Motivated to pursue her passion, she moved to Austin, Texas, to attend Le Cordon Bleu where she met her husband, also a passionate culinary arts student. Completing an externship with a James Beard Award winner and celebrity chef John Besh at Luke in New Orleans, Louisiana, provided valuable experience working in a fast-paced, first-rate culinary environment under the supervisor of an award winning chef.
After a successful externship in New Orleans, Chef Forde graduated from Le Cordon Blue with honors and relocated to San Antonio, Texas, where she was privileged to work for James Beard Award Nominee Chef Andrew Weisman and for Central Market by H.E.B. where she learned another side of the culinary industry: the mass production for a specialty grocery store.
A move to the Mississippi Gulf Coast brought Chef Forde and her husband closer to her husband's family and to an area rich in culinary career opportunities. She first worked as an executive chef for a local restaurant where she oversaw all front-of-the-house and back-of-the-house restaurant operations.
For the past two years, she has been teaching International cuisine in the culinary program at the Mississippi Gulf Coast Community College. Coupled with her international heritage and travel throughout the world with her passion for culinary, she accepted this new assignment with the same energy she did her work as an executive chef. She has been teaching two years in the community college and is currently teaching at the Escoffier Online International Culinary Academy. Chef Forde is confident that teaching is a perfect fit for her and enjoys engaging students mastering the skills and knowledge needed to become chefs.
Chef Ryan Hodros
Ryan Hodros grew up in a small community in rural Ohio in a home alongside an enormous cornfield. There, he learned a love of cooking from his mother on rainy Midwestern evenings and snowy winter holidays, spending many days learning family recipes and experimenting to create new ones.
After graduating from Baldwin-Wallace College with degrees in English and Religion and gaining four years of experience in publishing, Ryan joined the Navy as a Cryptologic Technician Interpretive. After gaining fluency in Mandarin Chinese at the Defense Language Institute in Monterey, California, Ryan spent four years working for the NSA and Department of Defense as a translator, editor, and quality assurance manager.
After separation, Ryan attended the Auguste Escoffier School of Culinary Arts in Boulder, graduating from both the culinary and baking programs. Since then, he's worked as a food and beverage critic, publishing articles in a variety of online and print publications, including 5280 Magazine, 303 Magazine, and Food & Beverage Magazine. He's also worked as a server, an instructor, and high school cooking demonstrator.
Chef Susie Wolak
Before coming to the school, Susie Wolak worked her whole career in the industry as a Pastry Chef. Starting with Hilton Hotels then going to work for Clubs Corporation of America at their Flag Ship Property, The Metropolitan Club in Chicago and then going back to work for Chicago Hilton.
Chef Cesar Herrera
Cesar Herrera has been a chef for 20 years, running food operations with different types of cuisines. He was introduced into the restaurant industry at a very young age. He began helping out at his dad's friend's restaurant, by the time he was in High School, he was a line cook at "1776 Restaurant" in Crystal Lake, IL, cooking fine dining American Cuisine. After a few years Herrera became the Sous Chef at "Pub on the Square," another fine dining restaurant located in Woodstock, IL. After gaining great knowledge, he opened "Genovese's Café," an Italian cuisine restaurant, as the Executive Chef in Crystal Lake IL. His next project would be the Executive Chef at "Docks Bar & Grill," located on Bangs Lake in Wauconda, IL. His latest venture would be the opening of a Irish Gastro Pub, "Middleton's On Main" in Wauconda, IL, which in its first year was recognized as "Best New Restaurant in the Chicago land for 2012" and "Best Restaurant in Lake County" by the Daily Herald. After 25 years of experience as a chef, he would like to help other students achieve their goals through the Escoffier Online Culinary Program.
Student Work
Selected student work.